Becky Preston
---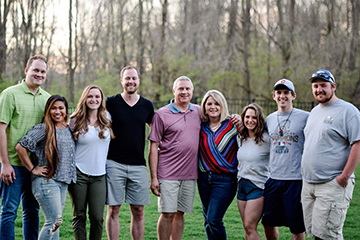 When asked how many children I have, typically I respond that our blended family is The Brady Bunch, with six. However, there's part of the story I don't tell. I'm sharing it now because October is Pregnancy & Infant Loss Awareness Month, and I want others to know they are not alone!
I delivered my firstborn in 1991 without issue. When we decided to add to our family, I never imagined it would bring the deepest grief I would experience. Over a five-year span, I lost five pregnancies­—three miscarriages and two stillbirths. The miscarriages were devastating; and burying two little boys was almost unbearable grief. I truly didn't know if I would ever feel joy again.
Fast forward to today and my daughter Sarah is now 28 years old, and she did earn the title of 'big sister' to two brothers—Andrew and Adam. I will never forget the babies I lost. They are etched in my memory forever. But from the deepest sorrow I have experienced the greatest joy, and today my heart is filled with more love and gratitude than I could have ever imagined.
Becky Preston, Executive Vice President, Growth Strategies & Bank Adminstration
#FacesofBusey