Chad Tennill
---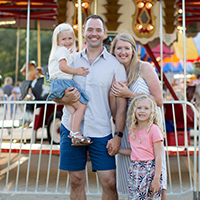 "Growing up, I never had interest in fraud management or banking. Through high school and college my lone goal was to become a police officer. I achieved that goal in 2010, but two years later injured my back in a suspect pursuit and had to have surgery. After surgery, I was unable to perform at the same level again, so I had to retire from the department in 2015. With no backup plan, I immediately re-enrolled in college, even though I had no idea what I wanted for a new career … I only knew I had to keep moving forward.
In May 2018, I started as a corporate driver for Busey to keep busy and get to know the company after seeing advertisements about it being one of the top-rated places to work. My experience driving led to an opportunity for me when I graduated with my Bachelor of Business Administration in 2019. At that time, a few Busey leaders insisted I begin meeting with various departments to find my place in the organization, and I eventually applied for the fraud manager position. Despite a lack of banking experience, they recognized my leadership ability and believed I would be a great fit for the role.
Now, after a year in the position, I've been able to continue to develop my skills, improve the bank's fraud mitigation program and even work towards my MBA. I lead a fantastic team of investigators and I'm proud to work alongside some of Busey's best."
Chad Tennill 
Assistant Vice President Fraud Manager