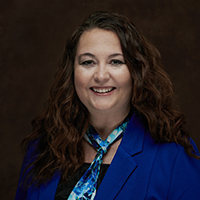 "I've been blessed to have some incredible people help me get where I am today. My grandfather and mother taught me one of the best life lessons I've learned—to choose my words wisely. Words do matter, and a single conversation can have an incredible impact on someone's life, good or bad. Thinking before you speak is often difficult, but a very good aspiration to hold.
In college, I had an amazing mentor who introduced me to Industrial/Organizational Psychology (the human resources side of psychology), and I knew that was the path for me. At one point I thought I wanted to be a psychiatrist, but HR is a much better fit, and I still get to use some of those counseling skills.
I started at the bank as an HR intern and have taken advantage of all the opportunities presented to me along the way while working with a lot of great leaders and coworkers who helped me tremendously. I've had a lot of very interesting interactions in the 22 years I've been doing this. Every day is unique and presents new challenges, which gives me endless opportunities to learn and improve my skills.
Most of all, I thoroughly enjoy being an HR resource for my regions and helping associates meet their career goals and become fulfilled in their positions, just as so many have helped me along the way."
Danielle Wisely
SVP, Regional Human Resources & Associate Experience Manager - Gateway and Florida Regions