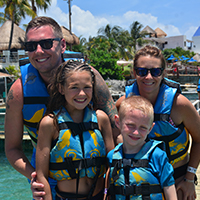 "When thinking about my happiest moment, obvious ones come to mind like the day I married my wife, the birth of my children and graduating college. But I truly feel my happiest moment isn't a milestone at all—but one great moment in time lasting just seconds.
It occurred three years ago while on family vacation in Mexico. We took a boat to a small island and spent part of the day swimming with dolphins. There was a moment when my family and I were all in the water engaging these beautiful creatures, and at that time nothing else mattered to me. The people I love were all smiling, laughing, playing and truly happy. I remember almost crying because in that instant I didn't have a worry in the world. We were all living in that moment, and a blissfulness came over me I hope everyone can experience at least once. It didn't last long, but it was mine. 
It's only natural to think about the past and look to the future. But if you are lucky enough to catch yourself in the moment, take it! You never know when the next happiest moment might show up."
Dennis Warner 
SVP, Area Manager