I've been concerned about the welfare of children for my entire life.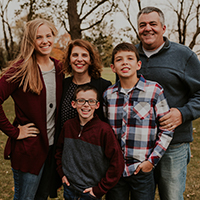 As an adult, I understand the importance of breaking a cycle of abuse and neglect. People don't set out to harm their children, but many times lack the role models and wherewithal to change
their circumstances.

As a volunteer with the Crittenton Centers in Peoria, I have seen first-hand the importance of a stable and nurturing environment. Providing 24-hour emergency childcare opens a door for a desperate parent to a world of possibilities beyond neglect or abuse.

In our modern world, we have user manuals for the simplest of gadgets or devices, but there is no user manual for being a parent. If a person came from an environment of abuse and neglect, it is likely they will repeat what they have learned unless someone steps in and shows them how to change. It is my honor and privilege to be part of that change through my volunteer work at Crittenton Center.

Hope McAllister
Executive Vice President - Human Resources | Central Region