Because of COVID-19, my college didn't have a graduation in May where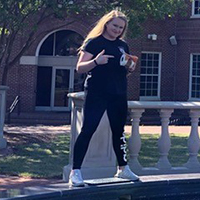 I would've received both my Bachelor of Business Administration degree in Trust and Wealth Management as well as my MBA. Among graduating seniors, the running joke was that the only 'paper' we would be getting was toilet paper. It felt a bit disappointing that after so many years of buildup, seemingly overnight my college years were just over.

So, instead of walking across the big stage in a cap and gown, I was driving a moving truck nearly 1,000 miles to Illinois to start my career with Busey Wealth Management. Many of us had signed job offers long before COVID was a daily talking point, and most thought they were secure. But some companies started backing out when the pandemic hit. Seemingly every week that passed someone else was looking for a new offer. But thankfully, Busey associates kept me involved throughout the process, reassuring me that even if they didn't know when, there definitely would be a job for me. This was—and I can't emphasize this enough—a major relief to me and took a little of the sting out of missing graduation.

Since joining Busey, I've never had a moment of doubt that I made the right choice. If anything, I think I underestimated how friendly literally everyone here is. I feel so fortunate and happy to be a part of the Busey family.

Kelly Ruth Fuqua
Fiduciary Advisor Specialist | Edwardsville