Until recently, I didn't necessarily have a true passion or cause for which to advocate.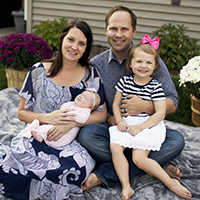 That is, until I had my daughters. As a mom, I want to show my daughters that they can grow up to be a businesswoman, a leader, anything they want to be.

In August, I had my second daughter, Mackenzie Hope. After the initial excitement, joy, video chats with big sister Parker, we were informed by the physicians that Mack had markers for Down Syndrome. The emotions that came in the following days are unexplainable. I could not have gotten through the months that followed without certain people in my life … our lives. Our parents, family, friends and co-workers built a support system around us that held us up for a month straight while Mack was in the NICU.

It was then that I realized my purpose—advocating for Mack and the DS community and doing everything I can to ensure that both of my daughters know what it is like to live in an inclusive world.

To work for a company that has helped me transition back into working full time while being a mom of two and adjusting to our new "normal" has been immeasurable. I will never undervalue the importance of surrounding yourself with good, kind people and working for an organization which cares for and supports its associates … and finding a cause worth fighting for.

Molly Chesna
VP-Commercial Portfolio Manager | Northern Region