Sally Brumfield
---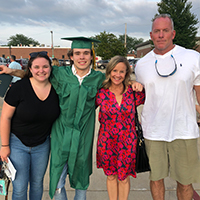 "It's never too late to live your purpose! In the spring of 2005, I was a divorced mother of two young children. For so many reasons, it was a terrifying time and I knew I wasn't living my best life.
That same year in May, I started working at Busey in my hometown of Bloomington, Illinois, as a part-time teller and really had no idea how my life would unfold. Essentially, while my children were growing up, I was growing up along with them. But I was fortunate to have my best friend and mentor, Laura Lamberti, who helped me through it with guidance, tears and a lot of laughter.
In 2010, I married my husband, Mark, at the bank branch where I became an adult. Then, with the encouragement of all my team members and family—and helped by Busey's Educational Opportunities program—in 2020 I graduated Summa Cum Laude with a bachelor's degree in Organizational Leadership.
Through this journey I have found the true meaning of leadership and my purpose—trying to lift others to their full potential, without judgement and with unconditional love, by volunteering my time to organizations that help the marginalized and most vulnerable in our society. Everyone deserves a hand up and a second chance to live their purpose."
Sally Brumfield
Vice President | Private Client Associate - Florida