Volunteer Spotlight Featuring Peggy Vallandingham
---
October 2021 BUSEY'S VOLUNTEER OF THE MONTH
Peggy Vallandingham | Vice President - Area Manager
Living the Busey
promise
in her community, Peggy Vallandingham, Vice President-Area Manager is being recognized as Busey's Volunteer of the Month.
Peggy spends much of her volunteer time working with the Millstadt Optimist Club (MOC),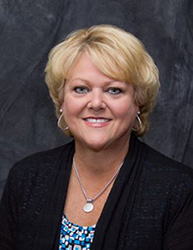 which raises funds to benefit children helping them develop their full potential in their communities. The Club hosts many functions throughout the year to collect donations to support charities like the Children's Dyslexia Centers, local schools, scholarships, food pantries and more.
The MOC put on their biggest event in October, The Chili Cook Off. Peggy's involvement with the event included complete event execution, from set up to tear down. Peggy even helped make one of the chili entries! The donations collected from the Cook Off and other fundraising events throughout the year are donated to various organizations in the community. The Millstadt Optimist Club has now contributed over $300,000 to the Juvenile Diabetes Research Foundation

Congratulations Peggy!
Creating change in our community one project at a time.
Busey associates are encouraged to be actively involved, enriching the quality of life in the communities where they live and work. Being a community financial services organization means being a good corporate neighbor—partnering for purpose and progress.