Volunteer Spotlight Featuring Katie Miller
---
November 2022 BUSEY'S VOLUNTEER OF THE MONTH
Living the Busey
promise
in her community, Katie Miller, Private Client Manager, is being recognized as Busey's Volunteer of the Month.
Shaping the lives of others and creating paths to success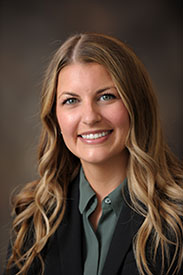 is Katie's motivation for dedicating her time volunteering with the Don Moyer Boys and Girls Club. The club impacts the lives of over 1,500 kids in the community – giving kids a safe space to go when school is out, homework help, and positive adult mentors. It also helps offer safety, support, and hope for all youths in the community. In July, Katie began planning the Dancing with the CU Stars Annual Fundraiser with the Boys and Girls Club that took place in December.
During this event, members of the community perform, and viewers vote on their favorite performance with their donations. Dancing with the CU Stars surpassed their fundraising goal by $140,000, raising over $440,000 throughout the evening. The event was live streamed to over 1,300 people encompassing 48 states and 9 countries, along with the 550 attendees who were able to be there in person. The dedication of the dancers along with the unbelievable support from the community and team helped put together a truly remarkable fundraiser. Thank you, Katie, for helping organize such a memorable and impactful event!

Congratulations Katie!
Creating change in our community one project at a time.
Busey associates are encouraged to be actively involved, enriching the quality of life in the communities where they live and work. Being a community financial services organization means being a good corporate neighbor—partnering for purpose and progress.