Learn more about featured financial topics
Customer Education Series
---
The Customer Education Series is a quarterly opportunity to learn more about a featured financial topic. These complimentary webinars address a wide range of topics and provide a platform for you to ask a Busey expert questions about the featured topic.
Upcoming Webinars
Have a question for our Busey experts?
Email us
– you may even inspire our next session!
Check out previous webinars below!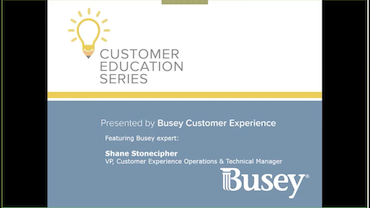 Toggle Modal
Ways to Pay: Smarter & Faster

With dozens of mobile and online payment services at your fingertips, it's easier than ever to pay other people. Busey's Shane Stonecipher will share Busey-approved payment services, helping you determine the smartest and fastest payment option for your unique needs.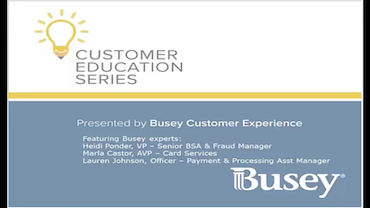 Toggle Modal
Keeping Out of Compromise
In 2016 there were 1,093 credit and debit card data breaches reported in the United States, an increase of nearly 40% compared to 2015. As consumers, it is important to understand how a data breach can affect your financial security. Join Busey's experts for an overview of what a data breach entails and tips on how to best avoid a debit card compromise.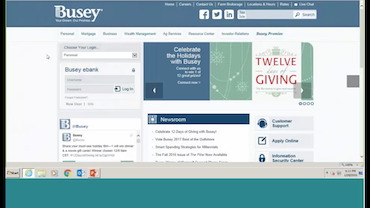 Toggle Modal
Access Busey, Anytime, Anywhere
It's your money, and you should be able to access your accounts whether you're out shopping or out of the country. Busey expert Shane Stonecipher, Vice President and Online Branch Manager, gives an overview of Busey's online and mobile services.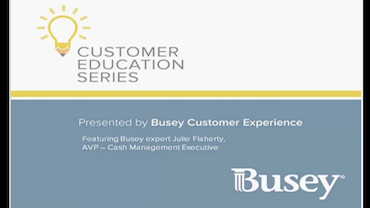 Toggle Modal
Fraud in the 21st Century
In recent years, companies of all sizes have experienced an increase in attempted and actual payment fraud. Busey Cash Management expert Julie Flaherty shares how to protect your business against this growing threat.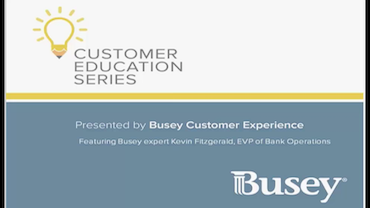 Toggle Modal
Why the Chip Matters: What You Need to Know About EMV Chip Cards
Explore how EMV technology impacts security, why banks and merchants are making the shift and what you can expect with Busey expert Kevin Fitzgerald, Executive Vice President of Bank Operations.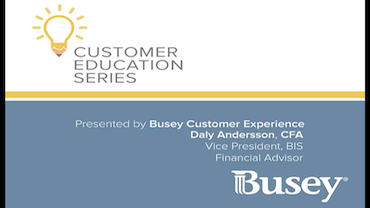 Toggle Modal
Savvy Saving for Tuition
The cost of a college education is continually rising, and with the average undergraduate degree costing more than $75,000, according to The College Board®, it's important to have a successful college savings plan. Busey Wealth Management Expert Daly Andersson, CFA, Assistant Vice President and Financial Advisor, shares available options to help ensure you're making the most of your education savings.
---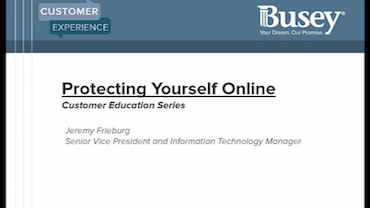 Toggle Modal
Protect Yourself Online
According to McAfee, every year more than 500 million people fall victim to cybercrime like fraud and phishing, making it critical to protect your personal information. Senior Vice President and Information Technology Manager Jeremy Frieburg shares how you can protect yourself online and what Busey is doing to ensure your information is safe.