Eddy Gonzalez
---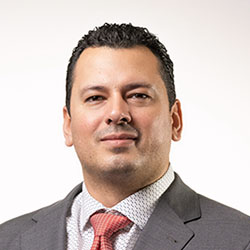 Community Banking Officer
415 Debaliviere Street
St. Louis, MO 63112


With over a decade of experience in the financial industry, Eddy brings a wealth of knowledge to Busey's highly qualified team of Community Banking Mortgage Officers. He has a deep familiarity with all home lending products—from conventional to FHA, USDA, VA and more.
I love to play a part in the financial success of my clients—even in the most challenging of situations. I truly enjoy seeing them thrive and be proud of their accomplishments as they share how they did it with those around them. A large part of these achievements come from the financial knowledge they gain, which places them in the best position to qualify for and purchase a home. It is important to me that I educate them and prepare them for a successful loan opportunity and, ultimately, for a happy homeownership experience.
I've worked in different facets of banking and been honored to help my clients in each of my roles. I started as a teller, transitioned to a personal banker, then business specialist and later managed three branches. No matter my role, however, I believe that when we all have each other's best interests at heart and offer support when needed most, we can discover great success in even the most challenging times.