Skip Watson Joins Busey Bank as Regional President
---
Banker has more than 30 years of experience across Indiana
With an established and growing commitment to providing financial solutions to its customers, Busey Bank recently named Leo "Skip" Watson, Jr. as Executive Vice President – Regional President of Indiana. He will lead a Busey team dedicated to the financial needs of Indiana's communities.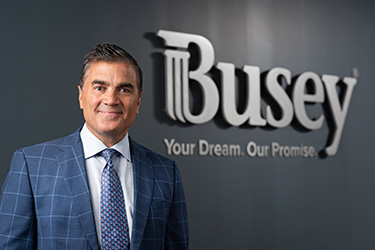 Watson began his formal banking career in 1988 at JP Morgan Chase in Indianapolis as a Commercial Banking Officer. He joined PNC Bank in 1998, where he rose to Executive Vice President & Managing Director of the organization's Wealth Management Group. In 2010, he joined Spectrum Management Group in Indianapolis as Principal & Head of New Business Development before moving to Wells Fargo Bank in 2012 as Regional Vice President of Commercial Banking. Before joining Busey, Skip served as an Executive Vice President with Key Bank in Cleveland, Ohio since 2014, leading commercial banking and wealth management divisions across Indiana, Michigan and Ohio, as well as leading the dealer finance business since 2020.
"Busey's vision of service excellence is backed by a culture of integrity and commitment which resonated with me as real and authentic," said Watson. "Their community-minded promise is built upon a storied history in the Indianapolis area and I'm excited to expand that success across the region. The team and I look forward to advancing Busey's regional business model across Indiana while providing our customers with broad financial capabilities and outstanding service."
A central Indiana native, Watson holds a Bachelor of Science in Business Administration from Valparaiso University. At Valpo, Skip was an accomplished Division I tennis player, serving as team captain for two years. He is an active alumnus, serving on Advisory Council for Valparaiso's College of Business, while also serving on the board of directors for the Center for Leadership Development. He is also a past board member of several organizations, including the Indianapolis Neighborhood Housing Partnership, Park Tudor School, Play Ball Indiana, Prevent Blindness Indiana, Indianapolis Downtown, Inc., Indianapolis Tennis Championships and the Immaculate Heart of Mary Parish Council.