Busey Volunteerism
---
Busey associates are encouraged and recognized for being actively involved community members who enrich the quality of life for our Pillars and area citizens.
Our volunteer spotlight features associates who provide valuable support to local organizations through commitments of time, leadership and advocacy. Meet Busey's August 2022 Volunteer of the Month -
Michelle Watson
.
Living the Busey

promise

in her community, Marta Belciak, Treasury Management Coordinator completed over 550 hours of service in 2021 and is being recognized as Busey's Volunteer of the Year.
2021 Volunteer of the Year
Marta Belciak | Treasury Management Coordinator

Marta's impressive impact in her community consists of a variety of efforts with organizations
such as United Way, Northern Illinois Food Bank and her very own - One Handshake One Peace NFP (
OHOP
). When she is not working and building relationships at Busey, Marta serves as founder, board member and volunteer for OHOP. Since the creation of her non-profit in 2020, Marta has been able to provide services like technology resource access, counseling and personal development to children in under-resourced neighborhoods around the Chicagoland area.
Marta's previous supervisor Colette Palermo – VP Service Manager III, commented on Marta's tremendous service efforts. "Marta is a living example of putting her passion into play. She continues to dedicate time and talents to those in need. Her heart and passion for those in need is displayed through her organization and communities she serves."
For being awarded as the 2021 Volunteer of the Year, Marta will receive a donation to One Handshake One Peace NFP for her achievements. Congratulations, Marta!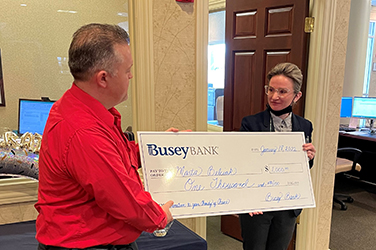 Learn more about our Promises