Jacinta Stubbs-Smith
---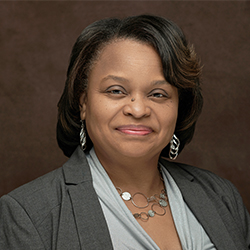 Vice President, Community Banking Mortgage Manager

NMLS# 414073
P: 618.257.3239
3685 Sullivan Drive
Swansea, IL 62226
Apply Now / login to current application
  | 
Apply now for a Home Equity Loan
Jacinta has been in the mortgage industry since 1995 – serving 10 years on the operations side as a document center team lead, loan processor, loan validator, closer/funder and secondary market loan supervisor. Twelve years as a mortgage originator doing conventional, government and portfolio loans also expanded her knowledge base to include grant programs such as St. Clair County Intergovernmental grants, Madison County Grants, IHDA and MHDC. Jacinta joined Busey Bank in 2016.
My passion to help all people in all places from all backgrounds – especially those in areas that are often overlooked and underserved – brought me to my current career choice at Busey. Their willingness to go above and beyond to help as many people as they can for all the right reasons – that's giving back. They help people to improve and overcome obstacles when no one else will even try. And that's not just for its employees, but for the communities it serves as well.
I define personal success as what you make it. Sometimes a failure can become a success if you take it and handle it the right way. You decide how far you want to go and how you will get there. Success for my clients is getting through their challenges one day at a time. No matter how big or small the improvement, it's still a success. No one is perfect or has a perfect life. We're all climbing mountains trying to grow and improve. Some of us are just climbing on a different side and at a different pace. One interesting perspective I bring to my clients is what I think about criticism and being told that something isn't possible. I don't see criticism as positive or negative, because it's just being told that you can do better. Everyone has room for improvement somewhere. Being told, "not possible" really means not today – but maybe another time – and there's still hope. 
My added value for my clients is that I give them the same service and respect that I would expect to receive if I was sitting on the other side of the desk. I treat all people the way I want to be treated. I find it very rewarding to help my clients accomplish what they never thought they could – homeownership.