Sandy DeMond
---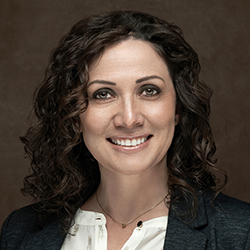 Senior Vice President,
Director of Community Banking
NMLS# 616465
330 W. Vandalia
Edwardsville, IL 62025


Sandy began her career in lending right out of college. After earning a B.S. degree in business administration, Sandy took her first "real" job as a credit manager and has held several positions in banking and lending. 
I was blessed to find a great position here at Busey Bank as Community Banking Manager. I have always been a people person; I enjoy helping in any way that I can. I now have the knowledge of lending and banking necessary and I can help with saving people money – it was a perfect fit. I was taught to work hard and believe in myself. I truly enjoy going to work every day and I see it as a challenge to help those who are under-banked or under-served. Many banks or mortgage lenders do not give the smaller home loans the same time or attention as the larger loans. I treat everyone the same no matter the size of the loan. I truly care about helping them achieve the dream of homeownership and hope that I made a friend in the end.
Busey Bank is the perfect mix of large bank resources with small town community bank feel. When Busey looked at my abilities and saw the resources I was able to offer, they encouraged me to join them. It's about the relationships that we are making! Busey truly cares, and it's the people that make it happen, our own local people. Our team is so involved in the community and it's Busey that encourages us to do so.
When a client comes in with a simple smile, a thank you, a hug, for showing them that they deserved and are capable of becoming a homeowner – that's a success. My clients are successful when they achieve their personal goals. That goal could be increasing a credit score, lowering their debt, or purchasing the home of their dreams. My clients are successful when they are happy! It is extremely rewarding for me when a client refers a family member or a client to me and tells them that, "Sandy cares. Sandy will take care of you." It shows they think of me before making any big financial decisions because they trust my advice. I am authentic – a positive person, that sees the best in everyone and believes everyone deserves a chance.