Home Purchase
---
Busey Home Mortgage is here to help you find the financing that's best for you—whether you're just starting out, tired of renting or upgrading to your dream home. With free pre-qualifications, you can search for your new home knowing all of your options, and our selection of specialty loan programs and in-house mortgage expertise means your home loan is tailored to your individual needs.

The Mortgage Loan Process
Once you're ready to buy a new home, there are a series of events that must take place before you can close on your loan and move into your new house.

Pre-qualification
The first step to buy a new home is to get pre-qualified so you know how much you can afford. Your mortgage lender will review your income, credit and assets to determine how much you can pay for a house. Once you know how much you can borrow, you'll work with a realtor to find a home that meets your needs and is within your price range. Be sure to stay in touch with your lender and update them on your search progress.

Loan Application
Once you've found your new home, it's time to submit an application along with your home sales contract. Your Busey Home Mortgage lender will explain the mortgage programs available, discuss any down payment requirements, and work with you to complete the application and collect the
required documentation
.

Loan Estimate
To help you better understand the terms of the loan you are applying for, you will receive a loan estimate detailing the estimated interest rate, monthly payment and closing costs for the loan within three days of the completed application. Information about any special features related to the loan will also be included.

Application Processing
After we receive your completed loan application, a mortgage loan processor will order the credit report, property appraisal, home inspection and title search. The processor will also verify your employment and bank deposits. Once all documents are received and details are verified, the loan will be handed off to the mortgage underwriter.

Underwriting
The mortgage underwriter will complete a thorough audit of your finances and documentation to determine if the loan presents an acceptable level of risk and meets all the required guidelines for the loan program. If the loan is not approved, it could fall under one of the following decisions:
Approved with Conditions – Loan approval is possible once stated conditions are met. These conditions could include: proof of mortgage insurance, additional pay stubs, tax documents or other documentation needs.

Suspended – The underwriter is not able to evaluate or verify important information due to documentation missing from your file. If you are able to provide the missing information, your mortgage lender will let you know if your application can be reactivated.

Denied – If your loan is denied, your mortgage lender should be able to tell you the reasons for the rejection and help you determine your next steps. Possible reasons for a loan denial include: you have too much debt, your credit score is too low, down payment is too small, property issues or inadequate employment history.

Closing
Once your loan is approved, the loan documents are sent to the title company's office where the closing meeting will take place. You will receive the Closing Disclosure in your closing packet. The closing disclosure is similar to the Loan Estimate, but it confirms all costs associated with your mortgage loan. At the closing meeting, you will sign several documents to complete the mortgage loan transaction and begin the journey of new homeownership!

Contact your Busey Home Mortgage lender for more details on the mortgage loan process or to get started on your home buying journey today.
There are several costs associated with a new home mortgage loan. Understanding these fees and budgeting for them can help smooth the home buying process.

Closing Costs
Closing costs include a variety of fees associated with closing a mortgage loan. When purchasing a new home, most of the closing costs are paid by the buyer. The average closing cost fee is about 2%-5% of the loan amount. It's more cost-effective to pay these fees out-of-pocket at the loan closing, but you may be able to roll them into your mortgage loan if you don't have the funds to pay them up front.

Appraisal Fee
When purchasing or refinancing a home, an appraiser is needed to confirm the fair market value of the home to make sure you are not borrowing more than the house is worth.

Credit Report Fee
A credit report shows your credit history and credit score, which plays a big role in the determination the loan amount and interest rate on your mortgage loan.

Underwriting Fee
Costs associated with having the underwriter review, research and approve the mortgage application.

Title Fee
This fee covers the cost to research the deed on the home to ensure no one else has a claim to the property.

Recording Fee
Covers the cost charged by your city or county recording office to legally record the new deed and mortgage.

Flood Determination Fee
This fee is paid to a third party to determine if the property is located in a flood zone. If the property is found to be located within a flood zone, you will need to buy flood insurance, which is paid separately.

Tax Service Fee
A tax service fee is collected to pay an outside service to monitor the property taxes to ensure all tax bills are paid on time.

For more information on mortgage lending fees, contact your Busey Home Mortgage lender.
Buying a home is an exciting adventure, and it's probably the biggest purchase you'll make in your lifetime. Many renters can afford to buy a home, but don't realize it.
You don't need a lot of cash to put a down payment on a home.

Mortgage rates are still low and first time homebuyer programs are available to help with down payment or closing costs.

Your mortgage payment may be equal to or often lower than your current rent payment.
Renting vs. Owning Comparison
The reasons to rent vs. own are different for everyone. If you're trying to make the decision of becoming a homeowner instead of being a renter, consider these factors:

RENTING

Rent payments help to increase the landlords equity at your expense

An increase in the value of rental property may lead to higher rent

Rent payments can increase each year

You do not pay mortgage insurance or real estate taxes, so you may not take any tax deductions

Close neighbors, landlord intrusions


OWNING

Build your own equity

Value of home may increase over time

Stable monthly mortgage costs

Mortgage interest and real estate taxes paid are deductible

Feeling of stability and permanency

More privacy

Freedom to live by your own rules

Adapt your home to fit your needs
Contact a Busey Home Mortgage lender to make your dream of homeownership a reality.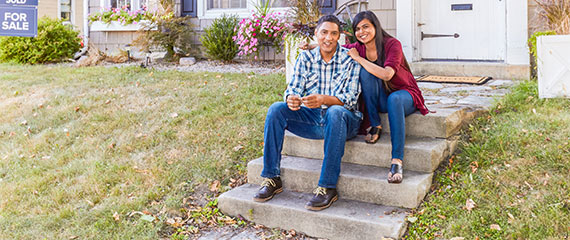 With our niche loan programs, our award-winning mortgage team will find the financing to fit your needs.