Volunteer Spotlight Featuring Carrie Clark
---
August 2023 BUSEY'S VOLUNTEER OF THE MONTH
Carrie Clark
Living the Busey
promise
in her community, Carrie Clark,
Universal Banker II
, is being recognized as Busey's Volunteer of the Month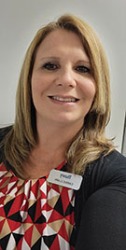 Throughout her Busey career of 29 years, Carrie has consistently been passionate about giving back specifically as a long-time supporter and volunteer at the Streator Festival. The festival consists of music performances, vendor shows, carnival, fireworks, and over a dozen daily food vendors. While on her 'vacation time', Carrie dedicated her week to preparing for the festival in its entirety, from set up to take down. The service that Carrie and her husband dedicate make a direct impact to community, as the funds raised at the Streator Festival go back into the city for improvements.
In addition to volunteering during this annual festival, Carrie has also volunteered in the Mazon community where her and her husband reside. "Carrie's compassion for helping others is very rare. When she finds a cause, she is always there to help." – Deborah Durando, VP – Service Center Manager III

Congratulations, Carrie!

Creating change in our community one project at a time.
Busey associates are encouraged to be actively involved, enriching the quality of life in the communities where they live and work. Being a community financial services organization means being a good corporate neighbor—partnering for purpose and progress.