Volunteer Spotlight Featuring Kelly Ruth Fuqua
---
June 2023 BUSEY'S VOLUNTEER OF THE MONTH
Kelly Ruth Fuqua
Living the Busey
promise
in her community, Kelly Ruth Fuqua,
Fiduciary Advisor Planner,
is being recognized as Busey's Volunteer of the Month.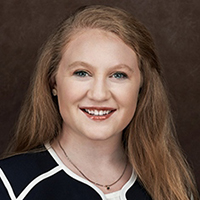 Kelly Ruth's involvement in her community has resulted in many lifelong passions that will continue to generate impactful change for years to come. Kelly Ruth's love for volunteering is evident by the numerous community efforts she is involved in. After moving to Edwardsville from North Carolina in 2020, she began to explore the open opportunities to make a change. Kelly Ruth participates in every volunteer opportunity she can through Busey or with any of her co-workers, from
Art on the Square
, the
Rotary Criterium
, and the
St. Clair County Teen Court Restorative Justice Youth Program
, to joining the planning committee with the
American Cancer Society
, and more.
Most recently, Kelly Ruth joined on as a volunteer for the Got Your Six Support and Therapy Dog Program in Maryville which provides specialized dogs to veterans and first responders suffering from various traumas. Kelly Ruth has also been involved in collecting and crocheting knockers for the Knitted Knockers Foundation that she donates to six out of the seven breast cancer care clinics in St. Louis. Volunteering has played a major role in Kelly Ruth's life since she was a teen and she plans on continuing this passion to focus on her endeavor to be the best person she can be.

Congratulations, Kelly Ruth!
Creating change in our community one project at a time.
Busey associates are encouraged to be actively involved, enriching the quality of life in the communities where they live and work. Being a community financial services organization means being a good corporate neighbor—partnering for purpose and progress.