Volunteer Spotlight Featuring Amy Hottman
---
March 2022 BUSEY'S VOLUNTEER OF THE MONTH
Amy Hottman
Living the Busey
promise
in his community, Amy Hottman, Vice President - Legal and Corporate Administration, is being recognized as Busey's Volunteer of the Month.
Amy's passion for giving back to her community impacts many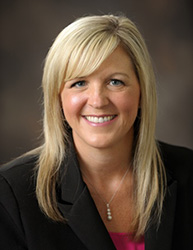 organizations such as the Unity West PTO and iCount. As soon as her children started elementary school, she dedicated her time to serving local schools by helping teachers foster good relationships, get acquainted with classmates and give extra attention to students who may be struggling. When the pandemic hit, volunteers were no longer allowed in classrooms, so Amy committed to helping 'behind the scenes' and joined the Unity West PTO.
Throughout March, Amy co-chaired the Glow Bingo fundraiser hosted by the PTO. With her leadership, Unity West was able to raise money for technology upgrades to supplement and enrich student's educational experiences at the school. Amy was thrilled with the success of the event and especially enjoyed collaborating with others to bring something new to the community, making a lasting impact in student's lives.

Congratulations Amy!
Creating change in our community one project at a time.
Busey associates are encouraged to be actively involved, enriching the quality of life in the communities where they live and work. Being a community financial services organization means being a good corporate neighbor—partnering for purpose and progress.