Volunteer Spotlight Featuring Elizabeth Malko
---
July 2023 BUSEY'S VOLUNTEER OF THE MONTH
Elizabeth Malko
Living the Busey
promise
in her community, Elizabeth Malko,
Financial Crimes Systems and Analytics Manager,
is being recognized as Busey's Volunteer of the Month.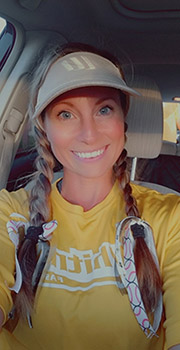 Liz has dedicated her time and talents as a manager and coach for youth fastpitch recreational and travel softball teams over the past three years. Most recently, she has been spending her time as the
Whitnall Youth
softball coach. Liz grew up playing fastpitch softball throughout college, so the transition to volunteer as a coach seemed like the perfect opportunity to get involved while still enjoying her love for the game. Being able to share her passion and knowledge with a group of athletes who have the same love for fastpitch softball has been incredibly fulfilling.
Teaching valuable lessons like effective communication, conflict resolution, leadership, accountability, confidence, respect, and teamwork through the sport of fastpitch has been an amazing journey for Liz. She has been able to watch the athletes utilize these building blocks of success on and off the field. "I am so grateful that Busey encourages and highlights the efforts that go back into the community." Thank you, Liz, for your ultimate dedication to inspire the younger generation!

Congratulations, Liz!
Creating change in our community one project at a time.
Busey associates are encouraged to be actively involved, enriching the quality of life in the communities where they live and work. Being a community financial services organization means being a good corporate neighbor—partnering for purpose and progress.