Volunteer Spotlight Featuring Eric Evans
---
July 2021 BUSEY'S VOLUNTEER OF THE MONTH
Eric Evans | Assistant Vice President - Lead Application Engineer
Living the Busey
promise
in her community, Eric Evans, Assistant Vice President - Lead Application Engineer, is being recognized as Busey's Volunteer of the Month.
Eric has been working with the New Horizons District of the Boy Scouts of America since 2016.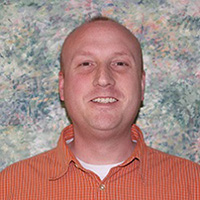 With what started as being a volunteer leader for his sons very energetic Cub Scout den, Pack 352, turned into Erin joining the planning committee, which then lead to becoming the Pinewood Derby chairperson. Eric states these roles pushed his comfort zone and helped him grow as he guided his scouts through their own goals. Even amidst all of the COVID-19 challenges, Eric's scouts still were able to graduate to Boy Scouts, with a live-stream from his basement. Eric now volunteers as the adult leader of his sons Boy Scout Troop 981.
Congratulations Eric!
Creating change in our community one project at a time.
Busey associates are encouraged to be actively involved, enriching the quality of life in the communities where they live and work. Being a community financial services organization means being a good corporate neighbor—partnering for purpose and progress.