Volunteer Spotlight Featuring Jay Brefeld
---
September 2022 BUSEY'S VOLUNTEER OF THE MONTH
Jay Brefeld
Living the Busey
promise
in his community, Jay Brefeld, Service Manager, is being recognized as Busey's Volunteer of the Month.
Jay's passion for sports has inspired him to get involved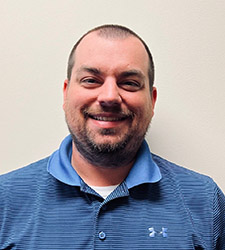 in his community through athletics. His love for giving back to his local communities through sports has taught him and the youth he serves various lessons to last a lifetime. Within the last five years, Jay has been involved with youth football clubs, soccer clubs, soccer camps, flag football, and baseball.
The number of organizations Jay is involved with continuously grows. With love and dedication, Jay has continued to volunteer with his son's football club, Bethalto FC, as well as the soccer club Scott Gallagher. Jay also regularly coaches youth flag football for Alton Park and Recreation and youth baseball through Godfrey Park and Recreation. Thank you, Jay, for making a difference in your local communities while positively impacting our youth!
Congratulations Jay!
Creating change in our community one project at a time.
Busey associates are encouraged to be actively involved, enriching the quality of life in the communities where they live and work. Being a community financial services organization means being a good corporate neighbor—partnering for purpose and progress.