Volunteer Spotlight Featuring Peggy Vallandingham
---
May 2023 BUSEY'S VOLUNTEER OF THE MONTH

Peggy Vallandingham
Living the Busey
promise
in her community, Peggy Vallandingham,
Vice President | Market Manager II,
is being recognized as Busey's Volunteer of the Month.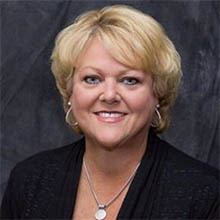 Creating a lasting impact within the local youth in Peggy's community has been a huge reason why she has continued to serve as a member of
The Millstadt Optimist Club and The Quail Club Ladies Auxiliary
for over 15 years. Throughout the month of May, Peggy was hard at work volunteering her time preparing for the Taste of Millstadt, hosted by The Millstadt Optimist Club. The event is hosted every year and includes a wine and food tasting with silent auction and raffles. Peggy spends her time planning meetings, creating and donating raffle baskets, baking desserts, decorating, and also volunteering the night of the event.
Also in May, The Quail Club Ladies Auxiliary put on a successful Children's Fishing Rodeo event for youth in the community. This free event included fishing, lunch and giveaways to participants. Peggy was a huge help to the success of the event, and plans to support future events held at the Quail Club. Organizations that dedicate their time and mission to the youth in her community inspire Peggy to continue her involvement year after year. Thank you, Peggy, for giving your time generously to help empower the next generation!

Congratulations, Peggy!
Creating change in our community one project at a time.
Busey associates are encouraged to be actively involved, enriching the quality of life in the communities where they live and work. Being a community financial services organization means being a good corporate neighbor—partnering for purpose and progress.