Volunteer Spotlight Featuring Bob Ballsrud
---
FEBRUARY 2021 BUSEY'S VOLUNTEER OF THE MONTH
Bob Ballsrud | Executive Vice President – Executive Managing Director

Living the Busey promise in his community, Bob Ballsrud, Executive Vice President—Executive Managing Director, is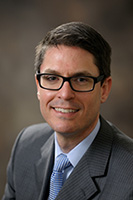 being recognized as Busey's Volunteer of the Month.

Bob has been dedicating his volunteer time to becoming an ally and a leader in the fight for equity with his local United Way Chapter, the United Way of Champaign County. While completing the United Way of Illinois Equity Challenge, Bob is gaining awareness of how inequity impacts his neighbors and community through various activities and training resources found online. The fight is not even over—Bob will be continuing his journey for fourteen more weeks!
Congratulations Bob!
Creating change in our community one project at a time.
Busey associates are encouraged to be actively involved, enriching the quality of life in the communities where they live and work. Being a community financial services organization means being a good corporate neighbor—partnering for purpose and progress.