Commercial Treasury Management
---
Owning a business takes vision, hard work and many sleepless nights. You know that firsthand—and your dream thrives because of your dedication and commitment to its success. And you want timely business solutions to keep it that way.
Busey promises to give you the assistance and answers you need to keep your business successful and nimble. With solutions designed specifically for your business, our treasury management team will analyze your cash flow needs and recommend ways to make the most of your money through automated solutions. You'll feel secure knowing that Busey's behind you.
Receivable Solutions
Accelerate access to your
receivables
, increase operating efficiencies and provide your customers the flexible payment options they demand with a
treasury management receivable
solution designed for the way you operate.
Payable Solutions
Improve audit trail information, increase staff productivity and control your daily cash flow with a
payable solution
tailored to your payment volume and accounting cycles.
Liquidity Solutions
Optimize returns and reduce your workload with
liquidity solutions
designed to make your cash work hard for you—not the other way around.
Information Reporting Solutions
Fraud Protection Solutions
Risk management is a vital part of every business; protecting your assets and confidential bank information is key. Help protect your accounts with Busey's
Fraud Protection Solutions
.
Employee Benefit Solutions
Your employees work hard for your company, and you want to provide financial solutions to help them prepare for retirement. Our team of professionals is equipped to handle every aspect of your
employee retirement plan
to significantly reduce your fiduciary risks and responsibilities as an employer. Leveraging our five lines of business, we can help your employees define and achieve their goals through a comprehensive approach.
Additional Resources
Treasury Management Cut-Off Times (all times are in Central Time):
-  ACH Origination (Same-Day): 2 p.m.
-  ACH Origination (Next/Future Dated): 5 p.m.
-  Domestic Wires: 5 p.m.
-  International Wires: 2 p.m.
-  Internal Transfers: 6 p.m.
-  Mobile and Remote Deposit Capture: 5 p.m.
-  ACH and Check Positive Pay Exceptions: 11 a.m.
Whatever your financial needs, Busey promises the resources to help you succeed.
Contact us today to determine which products and services are right for your business.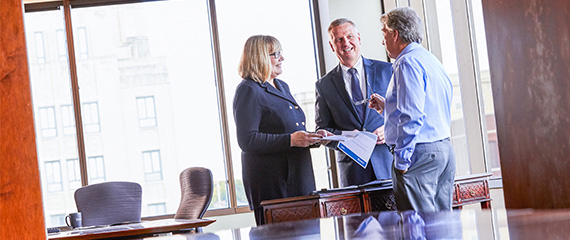 No matter how specialized your business needs, we will provide insights and solutions unique to your needs.